It's been a crazy start to 2018 for me.
Letting bots index our language mirrors, plus allowing other hostnames, in an era when there are more bots than ever, crawling HTTP, HTTPS, mobile and non-mobile - lead to a massive sustained DDoS on the site.
I keep learning and adapting - hopefully the results are felt in a more responsive site!
~~~~~~~
I've decided to
reorder characters in search results
based on
number of suitors
. Previously we used a combination of love and favorites.
~~~~~~~
For a very long time I had been wanting to make a mobile friendly version of Smash or Pass.
Well, I finally did it!
You can swipe left to pass, right to smash. And it even keeps a counter for the life of your cookie.
Probably be nice to add in filter by trait, filter by list options next.
~~~~~~~
We're still having trouble finding reliable ad revenue. Companies I used to work with pay next to nothing, new companies pay even less.
Donations and patreon pledges are becoming crucial to our survival.
We're off to an interesting start this year, with high traffic knocking one of our servers offline twice this week!

It is possible you may see:

Error 503 Service Unavailable
Try again in a moment!

Over 12 hours, only 2 requests met the criteria I set to trigger this - so hopefully it will be a pretty rare occurrence.

I'm also looking into doing another round of optimizing / rolling back inefficient queries.
I'd like to wish everyone a very Merry Christmas !
Enjoy some Christmas images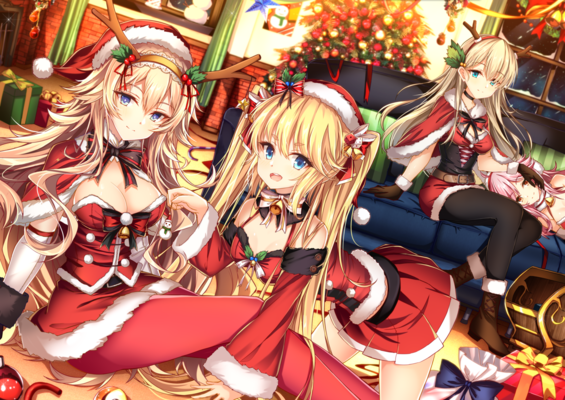 ---
---
Be the first to have your name here. Simply support the site via PayPal or Patreon.
The dollar amounts you contribute will be available for you to apply to any page you choose. PayPal donations will be applied to your account within 24 hours, and Patreon pledges will be applied by the 2nd week of the following month.
---
---
PLEASE READ :: I need your help identifying what on ACDB is of value to you. You can do this by sponsoring pages with your jewels. Simply go to the page you like, scroll down to 'Sponsored with Jewels' and fill out the short form with the amount of jewels you wish to apply. The are not subtracted from your account, and there is a restriction you can not sponsor in total for more than what you have. You can also change the amount at any time.
Bookmark this Page